Five Ways to Escape is the beautiful debut EP from Toulouse-based songwriter and vocalist Célia Berton, which we co-wrote through most of 2022. Célia is extremely talented, it was from start to finish, a wonderful experience and Célia and I have become great friends through the process.
The Back Story
Célia first came to me in January 2022 while I was living and working at Studio du Cerisier. Given I often work as a vocal coach to help non-English speakers improve their english prononciation, she booked a couple of sessions to work on her English accent. Although French, Célia writes her songs in English and had already recorded a couple of tracks at another studio in Toulouse, including the vocals. We set to work on one of Célia's original songs called Lighthouse and it was immediately clear that Célia's english accent wasn't at all bad and that there was only limited work to do there… The problem however, (as is often the case) was her placement of certain syllables within the musical phrase. Essentially, even the best lyric can be spoiled if we stress the wrong words and I gave her a couple of examples within her recordings where we could improve the phrase by subtly altering where or which syllable we chose to accent. Célia immediately understood what I was talking about, saw the potential for improvement and we were off, so to speak! Though at this point I don't think either of us imagined the journey that lay before us… Before I recount it, here's the EP in full so you can listen as you read.
The Re-Write
I would never bad-mouth a fellow music professional so I'll leave out names but it was quite apparent to me that the musicians who had arranged the instrumental for Célia's songs, hadn't quite captured the essence of the stories she was trying to tell. The recordings were cool and professional in many ways, but the music should enhance the message of a song and this didn't accomplish that – perhaps simply because they don't speak English. I pointed this out to Célia and after the improvement we'd made to the lyric, prononciation and overall vocal delivery of Lighthouse, not to mention how deeply personal these songs were, Célia decided she'd like us to re-write and re-record the whole song. Therefore we spent a few sessions arranging something that was not only more modern, but crucially, more sympathetic to the emotion of the lyrical content. On its own, Célia's voice can be hauntingly delicate, but multi-tracked it sounds quite lush so we also added plenty of vocal harmonies to enrich the overall sound. We were both extremely pleased with the results so decided to move forward with Timelapse, another song she'd already recorded; and by this point it was quite clear that the combination of Célia's charming melodies, lyrics (even in her second language, Célia tells the sweetest and saddest of stories in such a poignant way) and the arrangements we were putting together were really working. The conversation started to move away from getting these new recordings up onto her YouTube channel ASAP, and towards taking our time to write and release a full EP… it would naturally take time but she was excited by the idea and change of plan!
The EP – Five Ways to Escape
Over the course of 2022 Célia wrote seven lovely songs, often just recording a simple piano-vocal demo at the studio, around which we'd build the new arrangement. Once the full instrumental was complete we'd remove her demo vocal and re-record the lead vocal and rich harmonies – often with startling results. We took our time, laughed a lot (her at my age, me at how shy she'd get as soon as I pulled my phone out to film something for our Instagram channels!) but created some truly beautiful music along the way. We whittled these seven songs down to five that we would fine-tune and that I'd mix. It was an interesting moment of realisation at how far we'd come when we both agreed that the first song, Lighthouse, in its current form, was no longer strong enough to make the EP and that we'd shelve it for a later date. Those five songs became 'Five Ways to Escape' from which she chose 'Craving' to be the debut single. You can enjoy the music video here:
Mix, Master & Collaboration
As is nearly always the case with projects like this EP, the results are better when you involve the skills and opinions of other professionals and Five Ways to Escape was no different.
Célia sings beautifully in tune but we decided that given the 'pop' nature of the melodies that we'd enrol the talented Sébastien Haby of Studio du Cerisier to work his magic with Melodyne; and her voice sounded even sweeter afterwards. Séb also gave some really insightful comments and opinions on the arrangements in the early days of the project. The EP was brilliantly mastered by my friend Russ Hepworth-Sawyer at Motto Sound and although I'm extremely proud of all of the mixes on the EP, Russ's astute tips and advice definitely helped me reach an even greater level than I'd have perhaps made alone.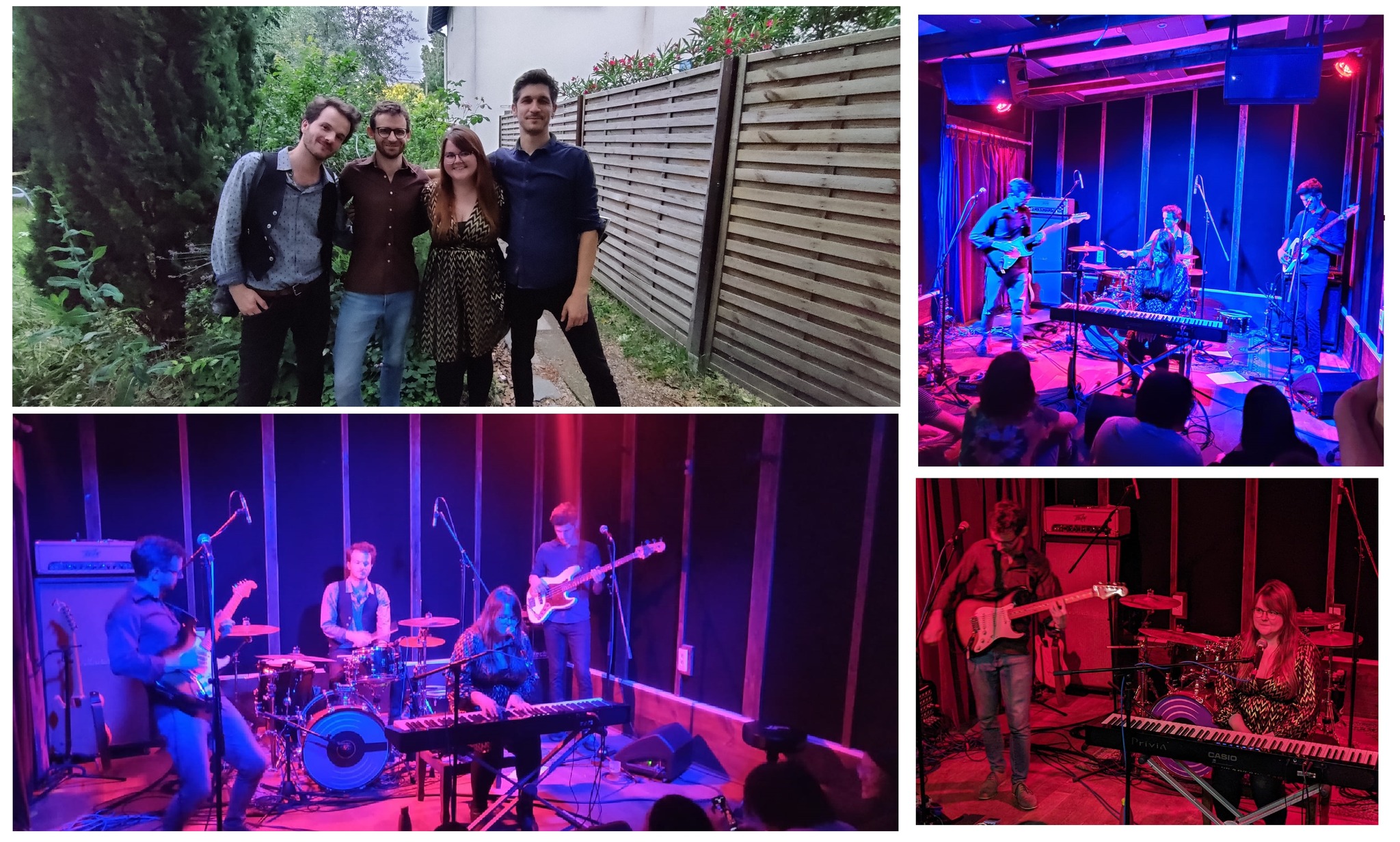 The EP Launch
By early 2023 the EP was mixed, mastered and Célia was rehearsing her songs in order to play them in a live setting and promote the release; her piano skills considerably sharper than when we'd first met! We decided to put a band together for a 1st July launch party, which was, to bring the story nicely full circle, held at Studio du Cerisier, Toulouse (See picture above). For the performance I played guitar and enlisted the help of two extremely talented and trusted friends with whom I've had the pleasure of sharing a stage with in other projects; bassist Fred Schang of I Me Mine and ace drummer Sébastien Moutte of the Mel Adys Band – both of whom learnt the songs perfectly and contributed to a warm and wonderful evening of live music. Célia was as pleased and grateful as I was for their work.
The Future
I'm pleased to say that Célia hasn't rested on her laurels or basked in her own glory. Alongside the two songs which didn't make the first EP, Célia has already started writing material for a second EP or album which she hopes to release in 2024. I'm full of admiration for how much she's grown in confidence – both personally and as an artist – through this whole process. Each of her songs is about a real and touching event in her life and there are no generic pop songs; it's all from the heart and for that reason alone I feel she's worthy of our attention. Please check her out on one of the links at the bottom of this page and drop a 'like' or a 'follow.' It all helps. You can also enjoy the video from EP opener, '25' – truly one of the loveliest songs I've had the pleasure of producing.
Célia Instagram
Célia Facebook
Thanks for reading this post about Five Ways to Escape. Please feel free to share or comment below and if you're looking for a co-writer (a composer, lyricist or producer) for your project then please drop me a line via the CONTACT page of this website. In the mean time you can stay up-to-date with my Instagram page or subscribe to my YOUTUBE channel.
Take it easy…
Arron