OGIMA Nomination… I was thrilled to discover that my work has recently been nominated for Song of the Year in the 2023 Orpheus Global Independent Music Awards. The song in question is 'Kelly' which I co-wrote and produced with talented Dutch artist, Cas du Pree.
Kelly
Kelly was originally written for Cas' 2021 debut album 'Getting to Know Me' and although I've already spoken about both the album and song in previous blog posts, you can listen to them here. A snippet from the video is also featured on my most recent showreel, below:
Kelly was easily one of the most personal and challenging songs I've ever had to compose and a real confidence builder for me and Cas as a creative team, so it was a thrill to see it get some recognition from within the music industry.
OGIMA Nomination
There are clearly some talented artists featured in the Orpheus Global Independent Music Awards, (many of whom have been featured on their Instagram page) so I really look forward to hearing the results on November 25th. Until then, I'm proud to share what the panel had to say about the song upon nomination.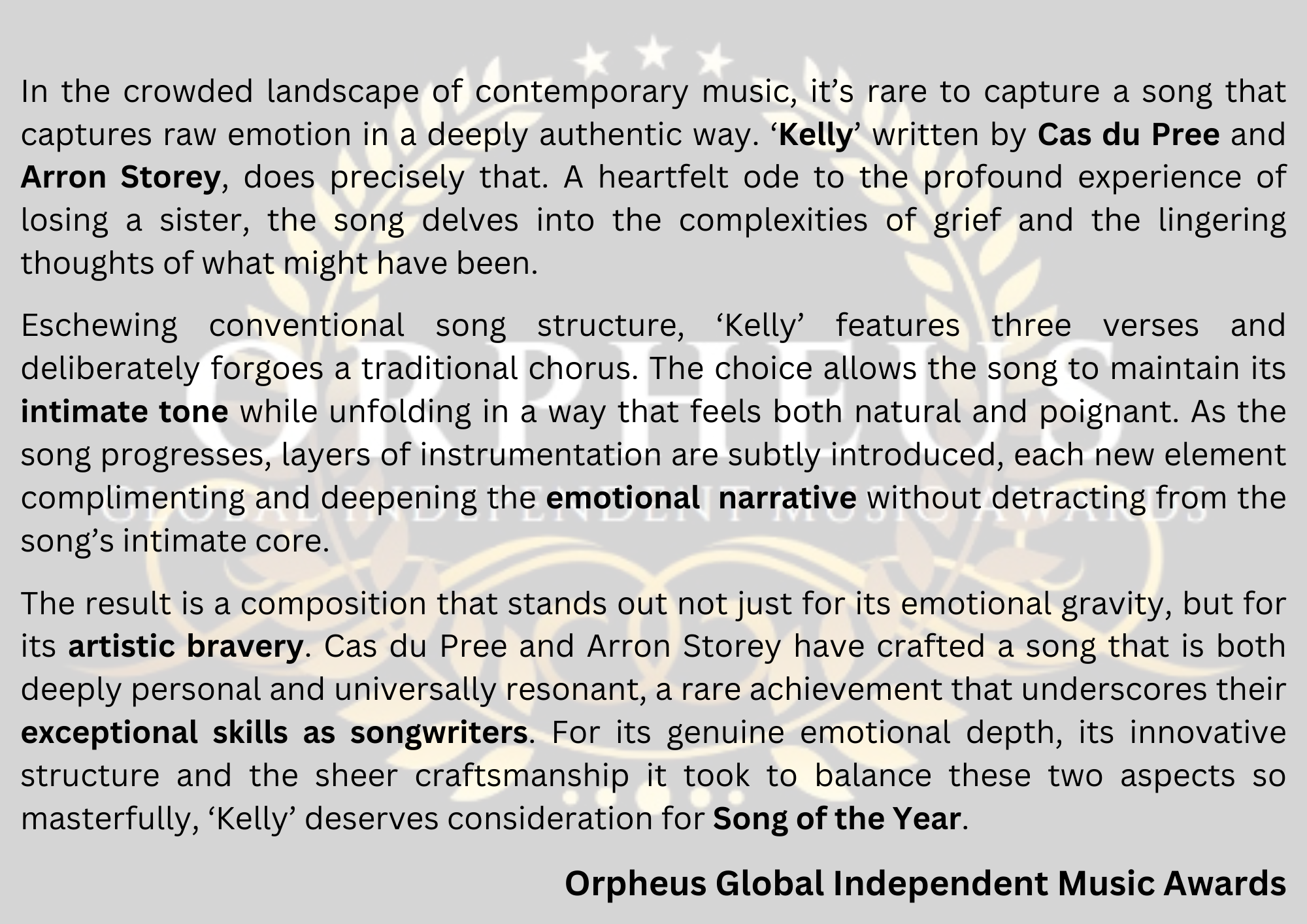 New Showreel
Over the last couple of years I've collaborated with some fantastic artists, co-writing or producing their singles, EPs or even full albums. Therefore I've recently assembled a quick highlight showreel to feature some of these collaborations on my YouTube channel. Take a look below:
If anyone is interested in working with a professional composer, lyricist or producer then do please drop me a line.
TJPL News Feature
I'll have to save the details for this news for a forthcoming post, but as well as being nominated for Song of the Year by OGIMA, Cas and I were also recently featured in Issue 9 of Unsigned Music magazine TJPL News for the release of our most recent single, 'Let's Go!' So a quick thank you to the TJPL team who wrote a detailed story, and continue to be communicative since publication as well. Check them out on their Instagram page by clicking HERE.
Thanks for reading this post about Kelly's recent OGIMA Nomination. Please feel free to share or comment below and if you're looking for a co-writer (a composer, lyricist or producer) for your project then please drop me a line via the CONTACT page of this website. In the mean time you can stay up-to-date with my Instagram page or subscribe to my YOUTUBE channel.
Take it easy…
Arron